PUNK ROCK SOUND TRACKS Vol.3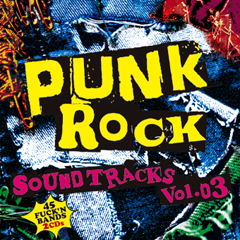 [Disc-1]


1. OVER ARM THROW "Chime"
2.STEREO VISION "SUWAXTUCHI"
3. for better,for worse "Angel's ladder"
4. SCREAM "Don't Miss Seeing The News, Mess With Our Thinking."
5. ASIAN HAND "it's over"
6. fact "Deviation"
7. AVENEW "Death penalty"
8. FREE DUCT "Strength of mind"
9. IQ20 "Maximum Life"
10. THE COWS JACKSON "April-7th."
11. BURL "SLEEP WALKING"
12. ALL OF ME "Skate-Mid"
13. STRIPE EFFECT "DESTINY"
14. ALL FOR MEAL "SICKENING WORLD"
15. SPICY SOCKS "Waiting"
16. STEREO TONE SOUND "Can Give You Anything"
17. STONE LEEK "Recently thought"
18. the 'tude "boring"
19. NO MEAN THE THREE "SICK"
20. FAITH "No Future"
21. RED BACTERIA VACUUM "DA DA DA"
22. VOLENTE "Think Twice"



[Disc-2]


1. ORTEGA "I don't want you to leave"
2. Start From Scratch "Better Tomorrow"
3. SUNSGRIND "A ray of light"
4. THE REDNEX "MORONISM"
5. BIG MAMA "We have no doubt"
6. POP DISASTER "MY MISTAKE"
7. JANGA69 "Do you know,What's I mean?"
8. HEADBAD "new world"
9. Smash up "ONE EMOTION"
10. chickenrace "Renovate"
11. Never Looking Back "STUPID"
12. SITTING DUCKS "From Deep Within My Heart"
13. nature living "Time to wind it up"
14. POST MASTER "LOAD"
15. SP★ILLER "pride under the pressure"
16. GOLDEN GOOSE "Change track"
17. DISCRUNCH "assert"
18. THE POP69CAFE "my SUMMER"
19. GOOD 4 NOTHING "WALK TOWARD THE BRIGHTEST STAR"
20. THE-WOW "コヨーテ"
21. GUN-FOAD "Punk Rock Drive"
22. UNi46 "Magic shoes"