PUNK ROCK SOUNDTRACKS vol.04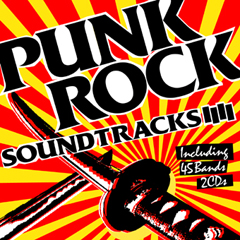 [Disc-1]


1. Smash up "underdog"
2. STRIPE EFFECT "HERE IN CALIFORNIA"
3. DONT TURN AWAY "GRIND IT"
4. When the Leaf Seared "everything's caught up in a storm"
5. Never Looking Back "I don't wanna be waiting"
6. The Strikers(korea) "DAWN"
7. VIBEDRED "play spot"
8. BuLLyJAP "Frustration"
9. Fertile Four Leaf "Enjoy my life"
10. GOOD 4 NOTHING "I'll be okay"
11. broadside "The Bullet Which They Shot Never Returns"
12. 16reasons "a curve of the seaside line"
13. NO☆GAIN "Tresure My Friends"
14. Flame×Out "inside of air"
15. SEA WEED "START ACTION"
16. CLEAVE "Who Knows The Real Reasons For Your Empty Mind"
17. SHOVE-IT "YOU SAY GROW UP"
18. FOUR GET ME A NOTS "Keep fine"
19. THE HARAKIRI NATION "Kids Fall Down On Street Corners"
20. EGGPLANT "I know sex!!"
21. 9BALL "Time goes on"
22. ALL FOR MEAL "UNITE"



[Disc-2]


23. CHILD KID NAPPERS "SICK SOCIETY"
24. SIDE AQCEL "tonight"
25. CRAZY HiTMAN "Long Time"
26. First of ALL "I DON'T CARE"
27. NOW OR NEVER "FUCK THE ASSHOLE"
28. STUDS "I'll Keep Running"
29. MUGWUMPS "save me"
30. water weed "to many hopes, to many hates"
31. SHENKY GUNS "YOU'RE FREE"
32. SPICY SOCKS "IRON HEART"
33. SHOT SHELL "Carry On"
34. GOLDEN GOOSE "Nobody helps you"
35. TRIPLE CLUTCH "TASTE GOOD"
36. ROULETTE "R.O.R."
37. SCREW☆WALKER "PUNK ROCK TONIGHT"
38. LODGER "ENJOY YOUR LIFE"
39. Dropcaps "Last Man"
40. mfd "Distortion"
41. SOMETHING RIOT "Life aint gonna wait for you"
42. ONCE AGAIN "sign"
43. ONE GRAM TONE "Good water flow"
44. ENEMA51 "I'm here"
45. SHOCKER "ZERO"