PUNK ROCK SOUNDTRACKS Vol.06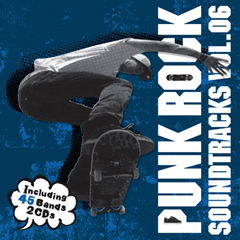 [Disc-1]


1. Neo slash "This is love"
2. BASSUI "GHOST"
3. Sandy Beach Surf Coaster "NEW STORY"
4. AVNEL "Die Hard"
5. SPREAD "RUN SO FAST"
6. HOLIDAYS OF SEVENTEEN "Jab As Beginning"
7. SHIT ALIVE "beginning of the lie"
8. THE CLUTCH "Dream Story"
9. MOONWALK STREET "See you again"
10. EGG BRAIN "MIDDLE"
11. HIGH THRASH GIRL "TxAxXxI"
12. MIRANOSAND "March Of The Delight"
13. S.L "Fantasy"
14. BRAND NEW DAY "No hideaway"
15. MAXWELL MURDER "Knock the boots"
16. Smash up "Rainy"
17. Package Bomb!! "Shining"
18. SERVICE ACE "THANK YOU MY FRIEND"
19. NAFT "NO TRUE INTENTION, NO ADVANCE"
20. CRUNCH KIDS "CxFxBx"
21. JUMP'N'FALL "THE END OF THE NIGHTMARE"
22. NonSense "Music"
23. UMBERBROWN "Everlasting Truth"



[Disc-2]


1. SECRET 7 LINE "Like a Crash"
2. STUDS "I JUST WANNA SEE YOU"
3. Skunk Works "Secret Base"
4. NEW STRIKE ZIPPER "Nothing wastes things"
5. GROOVY CLASS "Maze"
6. GOOD 4 NOTHING "Good Bye, My Love"
7. Awesome Dude "The Reason Of This Pain"
8. DOLL "Everlasting Relationship"
9. LIBERTY CAP "Believes"
10. WATER ROOM "ALL THE WAY"
11. SUNSET BUS "Love is sunshine"
12. HEAR FROM HERE "A Time To Wait"
13. SMASH RAID "trigger"
14.CHUCKY "Don't decide your own limits"
15. Jolly Bobby SEX "ANSWER"
16. BACKWARD REGION "Stand on the line"
17. TUS "Yellow Sky"
18. RIDE the CLOUD "DISCORD"
19. SUCK STUFF "JUST LIKE A PUNKROCKER"
20. LxAxDx "WHERE IS THE ANSWER"
21. TIDERIP "BOND"
22. RIGHTNING-V "KG"
23. this morning day "End of summer"